About Us

As one of the leading manufacturers and exporters from India, we, PVC Colouring Compounding & Processing offer our clients the best range of products that include Extruded Rigid PVC Profiles, Bottle Grade PVC Compounds, General Purpose PVC Compounds, PVC Blends and many more. We work for creating products that find usage in different sectors such as plastic products making industry, furniture industry and other industrial sectors. Since our humble beginning back in the year 1985, we have relentlessly worked to the position where we stand today by grabbing all the opportunities that have come our way. Our company has become the most preferred choice of our customers for availing a varied range of PVC Compounds. This has also made us achieve an annual turnover of a jaw dropping amount of INR Fifty Crores in this financial year, which is an enough evidence of our strong financial stability in the market.
Assured Quality

Quality is given top notch priority by us at PVC Colouring Compounding & Processing. Therefore, we undertake number of stringent measures to ensure flawless production of our PVC Compound, PVC Masterbatch, PVC Profile, etc. Moreover, each and every production activity is carried out under the supervision of our expert quality control experts. They also inspect the whole batch of sourced raw material before forwarding it to the manufacturing department. This helps us in ascertaining high industrial standards in our product assortment. In addition to this, our quality auditors check the finished products on the basis of various parameters before dispatch.

Infrastructure

Endowed with a gigantic infrastructural facility, we are efficiently meeting the varied requirements of our clients on time. A fine amalgam of man and machine, our infrastructure is incorporated with latest production, testing, packaging, and other facilities that form the strong backbone of all our operations. We possess an advanced manufacturing facility which is outfitted with modern set of machinery, equipment and latest technology. All the machines installed at our facility are upgraded time to time in order to keep pace with the changing market demands as well as maintain higher work standards. Moreover, our strong workforce always remain ready to assist us in developing a flawless gamut of PVC compounds.

Our Strengths

Following are some of the major factors that work as our strengths:

Reliable range of products
Stringent quality mechanism
Competitive pricing policy
State-of-the art manufacturing facility
Well experienced workforce
Assured timely delivery
Complete client satisfaction.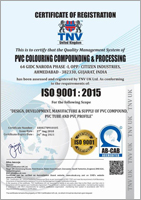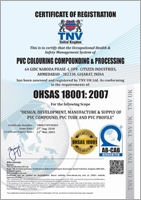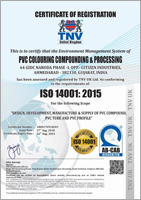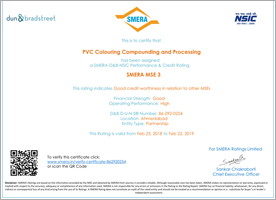 Read More